Suitable for normal/dry/sensitive skin, this Rose Hydrosol toner helps to bring radiance and youthfulness to the complexion while minimising the signs of ageing.
Combination to oily skin is better suited to our Lavender hydrosol 100% pure – with NZ lavender flowers
A beauty secret known for centuries and proven by science
Renowned since ancient times for its divine fragrance and colour, the rose is one of the most cultivated plants in the world. The Damascus rose, a symbol of beauty, is widely used both in cosmetics for its active ingredients and in perfumery for its delicate scent.
The fruit and petals of the Damascus rose are both rich in vitamin A and essential fatty acids, and have numerous uses in skincare.
Rose Hydrosol is a long-known beauty secret. But it's only recently that these benefits have demonstrated by scientific studies.
A most natural anti-aging action
The Rose Hydrosol works by stimulating the growth of keratinocytes, cells which participate in the renewal of the epidermis. It is these cells that repair damaged areas and allow our skin to preserve its youthful capital.
Rose also harbours powerful hydrating properties. By supporting the outermost layer of the skin (the stratum corneum) rose helps to limit moisture loss and maintain hydration. Its high concentration of essential fatty acids improves the hydrolipidic barrier and supports fibroblasts, the very cells that make up skin tissue. These cells are located deep within the dermis, where they work to produce collagen and other important fibres.
As an added bonus, the rich vitamin E content of Rose Hydrosol helps to provide protection against free radicals.
The result? Soft, plumped-up skin, a refreshed complexion and an immediate boost of radiance!
How to use :
Use everyday in your beauty routine. Spray generously on your cleansed skin.
Do not rinse. Pat dry with a tissue, if necessary.
Follow with your moisturiser as usual.
Can be used after sport or during travel to refresh, cleanse, and plump up the skin.
Our Damask Rose Hydrosol is an authentic one :
This Damask Rose Hydrosol is a distillation of fresh Rosa Damascena (Damask Rose) petals. It's not just essential oil in water!
It is richly concentrated in pure, bioactive ingredients. Every bottle of Rose Hydrosol contains nearly 2,000 fresh rose petals!
100% of ingredients are of natural origin.
Totally free from additives and preservatives.
Damask Rose Hydrosol is ideal for people who need a 100% natural and beneficial toner.
• Helps to fight dehydration while revitalizing and toning the skin
• Refreshing at any time: in summer, on a trip, after sport
• The perfect complement to your beauty routine
• Can be added to homemade clay masks
• An iconic and delicate fragrance that's 100% natural (perfume-free)
Related Blog Post :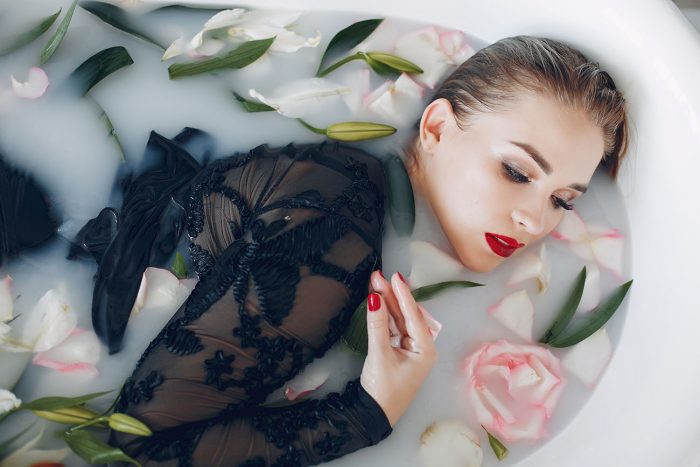 Since the ancient days, rose hydrosol has been used for its revitalising and antibacterial properties. [...]
1 Comment
Read more