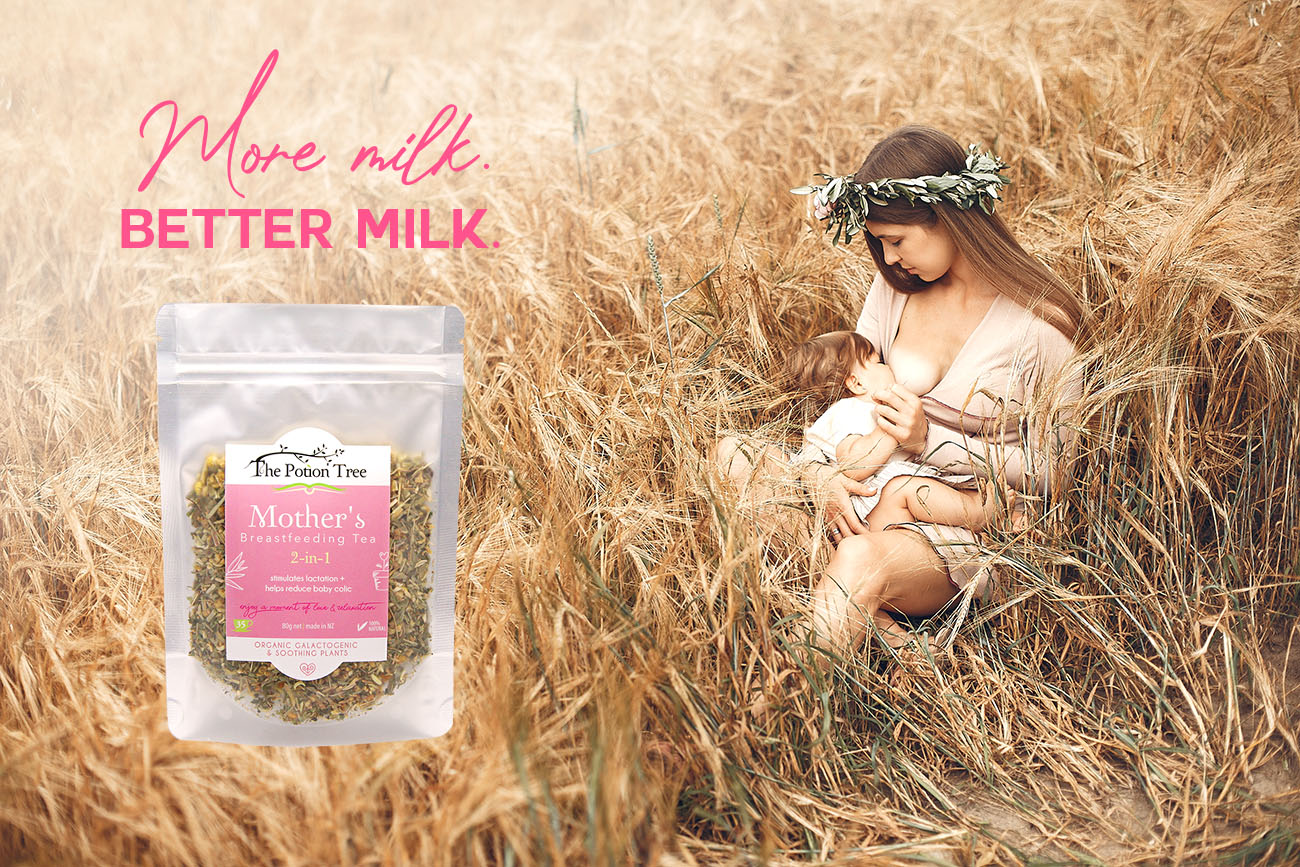 Mother's Breastfeeding tea: a galactogenic stimulant that promotes milk flow while reducing baby colic
Although breastfeeding is a beautiful thing to be shared by a mother and her child, it does have a few small inconveniences.
One of these is that lactation tends to decrease after the first milk flow.
Fortunately, there is a simple and natural solution used by women all over the world for hundreds of years: breastfeeding tea.
A natural and organic breastfeeding tea for baby's balance and well-being
You may have heard that toxins can be passed from mother to child during breastfeeding. That's why Mother's Breastfeeding tea is 100% organic. All of the ingredients are absolutely natural and sourced from organic farms. Taken regularly, our tea offers incredible benefits:
  Stimulates and increases milk production during the breastfeeding period
  Improves lactation
  Soothes both mother and baby
  Lends a pleasant taste to breast milk
Totally free from sugars and artificial flavors.
Natural anti-colic effect
The spasmolytic properties of the herbs in Breastfeeding Tea are transmitted to the baby through breastmilk, helping to relieve baby's colic and supporting lactation.
Fennel tea and other plants to promote breastfeeding
In order to provide the very best for mothers and their babies, our herbal tea has been formulated with the knowledge of pharmacists and midwives:
  Fenugreek seeds, aniseed, fennel and nettle are galactogenic plants, which support milk flow and lactation
 Aniseed and fennel support digestive function
 Fenugreek supports the mother's recovery by providing strength and energy. It also helps to boost milk supply within just 24 to 72 hours after the first cup
 Goat's rue has been used since ancient times to help mothers produce more milk
 Caraway and chamomile have a soothing effect and help to reduce symptoms of colic
  Aromatic fennel adds a wonderful flavor to milk, and its smell is known to please babies. Fennel also increases the quantity of breastmilk
 Nettle leaves add a fresh and pleasant flavor to the tea while also providing nutritive minerals
Breastfeeding tea is designed to improve and support adequate milk supply for your baby. This herbal tea helps in triggering milk flow and stimulating breast milk production. It also provides many welcome benefits to mom and baby to make breastfeeding a time for bonding and sharing.
How to use 
Infuse 1 tsp in a cup of boiling water for 3 to 5 minutes. For more efficiency, drink up to 3 cups a day.
You can prepare larger quantities by infusing longer with the same amount of tea.
The tea can be consumed throughout the breastfeeding period. It is also effective for treating digestive problems such as bloating.
It is advisable to drink plenty of filtered water during breastfeeding.