Rich in carotenoids, Rosehip oil is famous for its exceptional anti-ageing powers. It's ideal for nourishing dry and sensitive skin, fighting wrinkles, and treating stretch marks and scars. Rosehip oil is especially renowned for improving the appearance of skin marked by time or the sun.
Benefits of Rosehip oil:
Powerful repairer. Numerous studies show that regular application of Rosehip oil can improve the appearance, texture and colour of the skin.
Regenerating. With its wealth of antioxidants, Rosehip oil helps to reduce wrinkles and smooth superficial blemishes. It also slows the appearance of premature wrinkles, especially those due to photo-ageing.
Reduces dark spots, especially due to age and the sun, and helps prevent them from returning.
Softening. Rosehip helps to tone and refresh the skin, providing a healthy glow.
Firming. Rosehip oil prevents skin ageing by promoting collagen synthesis and restoring skin elasticity. It's wonderful for preventing wrinkles, as well as stretch marks and bedsores.
Scar reducing. Rosehip oil promotes skin renewal. Research shows it can improve the appearance of hypertrophied or retractable scars, both new and old. It helps to fade scars so that they blend into the skin.
Use Rosehip oil for:
Treating and preventing stretch marks
Reduce wrinkles, premature ageing, and age spots
Reducing redness
Relieving itchy skin
Revitalizing dull skin
After-sun care
Treating scars
How to use Rosehip oil:
With its pleasant fragrance and lightweight feel, Rosehip oil easily penetrates the pores of the skin without forming an oily film.
Simply add few drops to your day cream or apply directly to the skin after warming it in your hands.
Good news: Rosehip oil is much less greasy than other vegetable oils and can be applied in the morning after a shower. Unlike other oils, it won't leave your skin looking shiny.
Learn more about rosehip oil: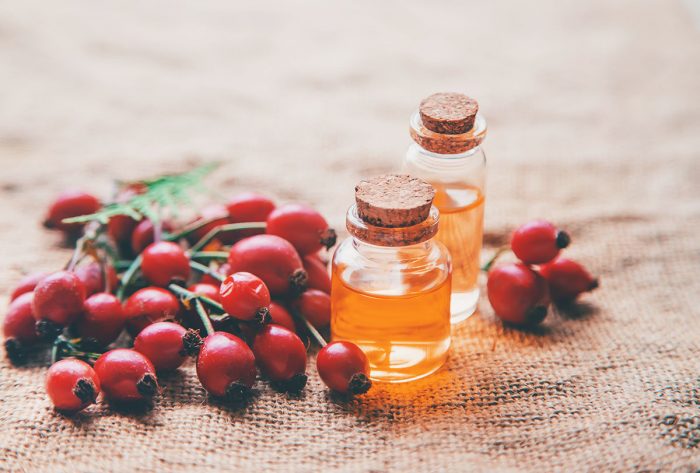 Delicate and fragrant, rosehip oil has many long-term benefits for your skin. Rosehip is extracted from the red seeds of the rosehip plant, a small shrub native to Chile. Found in remote and wild regions, the rosehip flower is today known throughout the world and appreciated for its nourishing oil. [...]
Read this post