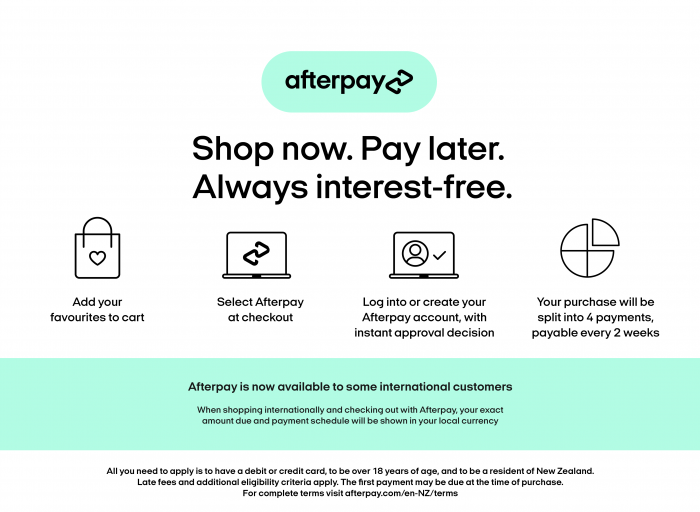 What is Afterpay ?

Afterpay is a secured and renowned payment method, that allows you to pay for your purchase over four equal instalments, due every two weeks.

For example, if you spend $100, each instalment would be $25. You'll see all the details in checkout!
---
 

Is it free ?

Yes ! It is interest free. No surprise, no hidden cost.
---
 

Is there a minimum amount ?

Yes, you can choose Afterpay payment method for orders with a minimum of $60.
---
 

Is it simple ?

Absolutely ! You just have to choose the Afterpay method on the checkout page.

If you're a first time customer, you will need to create an account, so have your email address, mobile number, payment and address details handy. Returning customers simply log-in to make a purchase.
---
 

Will I be shipped as fast as the others?

Yes, just place your order and Afterpay will take care of the rest. At any time, you can log in to your Afterpay account to see your payment schedule or make a payment before the due date. Otherwise, your instalments will be automatically deducted from your nominated debit or credit card every fortnight.
---
 

How do I return an item purchased using Afterpay?
---
Good to know

What happens if I don't have the cash at payment time?

If you fail to make a payment at any time, you'll be charged a $10 late payment fee by Afterpay with a further $7 late payment fee one week later if the payment is still unpaid.

Visit Afterpay's website for more information