Whether you are at the end of a difficult day, a hike or an exhausting trip, a bath taken according to the rules of the art is the assurance of a luxurious moment to recharge your batteries, forget everything and think only to you. In addition, the impacts of a good bath on physical and mental health are incredible.
So you might as well make sure you take this bath well!
Here are 13 tips to make it as enjoyable as possible.
---
1: Pick the perfect time
A good bath can't just be taken at any time! If you choose the wrong moment for your bath, you risk not reaping all its benefits… To make it as relaxing as possible, take it in the evening, after having digested your dinner!
2: Take a shower before taking a bath
The idea may seem absurd, but we assure you: by taking a quick shower before diving into your bath, you will avoid bathing in your own dirt… A shower also allows you to prepare your skin for the benefits of the bath.
3: Close the bathroom door
Share your bath with your partner, if you wish, but not with the whole house! In order to avoid having your little one or your dog invade your bathroom, while you are taking your bath, close the door, and ask everyone to leave you alone for 30 minutes.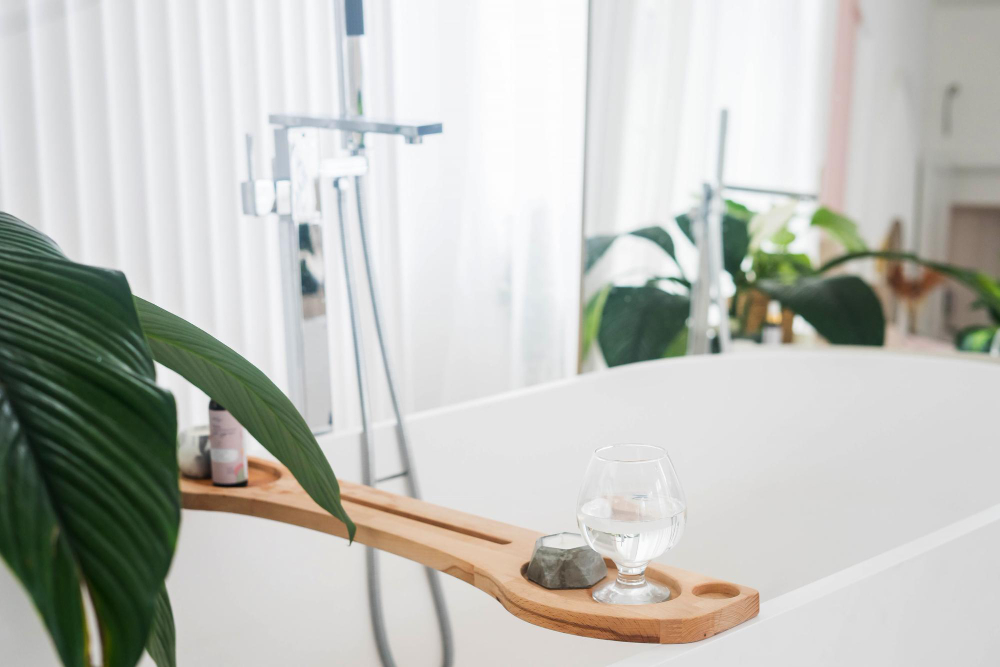 4: Accessorise your bathtub with suitable storage
You want to make the red carpet for self-care: shampoo, conditioner, skincare, exfoliation, mask… However, placing your products in an unstable single file at the edge of your bathtub is bound to end in disaster. Ouch! Think about the different possible storage systems depending on the configuration of your space: small shelves, a corner shelf, with screw or suction cup fixing, small hanging hooks for gloves and sponges, perforated plastic baskets if you have space at the end of the tub… It may seem trivial, but it's really nice to have everything within easy reach, and sometimes it's more relaxing to feel like things naturally fall into place. It's so easy to add this extra comfort, so make the most of it!
5: Dim the lights of your bathroom
To guarantee the relaxing effects of your bath, the lighting in your bathroom must be indirect and subdued. Install a garland of lights on one of the walls of your bathroom or light several candles on the edge of your bathtub. These will create a soft half-light to optimise your R&R time!
6: Choose the right water temperature
We imagine the scene: you are naked as a worm, trying somehow to get into your bath because the water is too hot… Far from being relaxing, right? To enter the water without difficulty (and not just your toes!), the temperature of the water in your bath must be as close as possible to that of your body. Use your wrist to test the temperature, as fingers have a higher heat tolerance. You may want to raise the temperature a little by adding hot water if you feel that the bath is cooling down too quickly.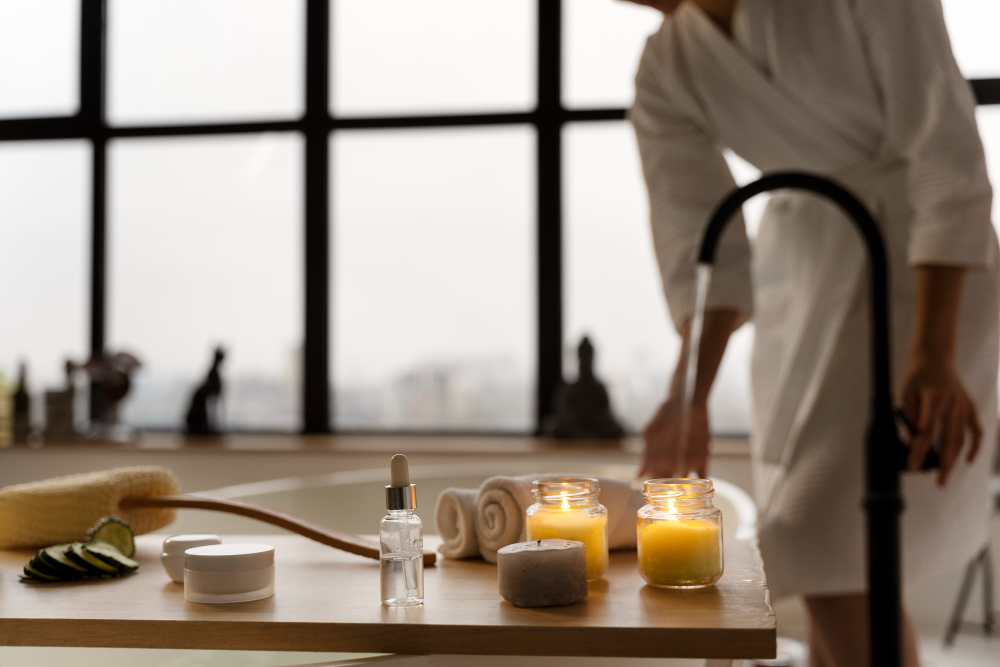 7: Optimise your bathroom's ambience
Don't hesitate to spruce up the atmosphere of your bathroom. Put on some music, nestle a few small plants around your bathtub, have a dish of treats and a drink nearby… All these little things will make the bathing ritual even more relaxing!
8: Upgrade your bath water
Essential oils, rose petals, bath powders or milks, mineral salts… Take care of your bath water to enhance its beneficial effects on your body. Also be sure to choose the right essences according to your needs and desires (relaxation, detox, rejuvenation, etc.).
9: Take your time (but not too much!)
Twenty minutes is long enough to reap the full benefits of your bath. Beyond that, your body will have to adapt to the change in temperature and will spend the energy you've acquired; you won't feel rested when you get out of the bath!
10: Relax
Take advantage of your bath to relax and think about something else. Meditate if you can; you will double the benefits of your relaxation time!
If you want to go further, opt for a guided relaxation session with an application like Headspace or Calm. You will find several types of relaxation according to your needs and desires: body scan, visualisation, etc.
11: Get a massage
Invite your partner to massage your muscles. It will do you good and it is a very sensual moment to share. If you don't have anyone to help you, several solutions are available on the market: install a massage cushion at the level of your head so that it gently relaxes your neck and back while you take your bath.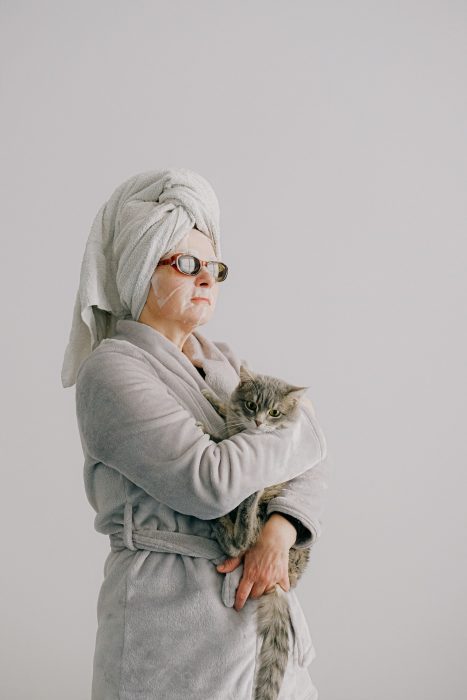 12: The importance of the bathrobe
What could be worse than being cold after having relaxed so well in a bath? Plan ahead and take care of getting out of your bath by paying attention to key details: use a mat that is very soft and absorbent for your feet, wrap yourself in a giant bathrobe that caresses the skin–you can even kick the comfort up a notch by placing it on a heated towel rail–and slip your feet into flip-flops or small slippers to avoid the coldness of the floor… Well-being continues!
13: Continue the bathing ritual
The benefits of your bath should go beyond the moments you are immersed in the water. Go for extra time by pampering (always!) your skin: moisturising body cream, face mask… Done? Nestle into the best armchair in your house, under a cosy blanket, surrounded by the softest cushions possible. You deserve it!
---
You may like :