Since the ancient days, rose water has been used for its revitalising and antibacterial properties.
The same benefits applies to our daily life today. Ensure not to be deprived from this natural toner.
Rose water is a liquid that is obtained by distilling rose petals. This is not to be confused with rose essential oil, which is more concentrated.
This essence, with its intoxicating fragrance is full of health and beauty benefits.
Rose water has multiple virtues that will allow you to avoid dangerous chemical agents in skin products on the market.
Here are 10 reasons why rose water is beneficial for you.
1. Rose water is hydrating
Apply to your skin in the morning and evening to ensure your skin is well hydrated.
The rose water will smooth and revitalise your skin. It will enhance a radiant skin complexion that will make you look younger.
Mixed with a little bit of argan oil or sweet almond, this water will become a perfect makeup remover.
2. Rose water fights colds
In the winter, put a few drops of rose water in your tea if you have a cold or the flu, it will help to clear your airways.
3. Rose water effectively fights wrinkles
Rose water is rich in Vitamins C & E as well as antioxidants. This counteracts the effects of free radicals in the body. For smoother skin, use rose water as a toner on your face.
Our 100% pure Damask Rose Water, not a drop of anything else
4. Rose water has healing properties
The rose hydrosol in rose water has healing properties that accelerate the healing of small wounds. Where you have a small cut, pour a few drops of rose water on cotton and apply to the wound.
For sensitive skin, acne and oral or skin ulcers, rose water would be an effective, antibacterial solution.
5. Rose water eliminate puffy eyes
If you wake up each morning with puffy eyes, rose water can work wonders.
Soak cotton in cool rose water and rest it on your eyes. After a few minutes, your eyes will deflate and dark circles will fade.
6. Rose water nourishes your scalp and hair
Rose water deeply nourishes your scalp to prevent irritation and treat inflammation. This will ensure healthy hair, prevent hair loss and stimulate the blood circulation causing follicles to strengthen.
Add a few drops of rose water to your conditioner to activate the blood circulation and strengthens the hair from the inside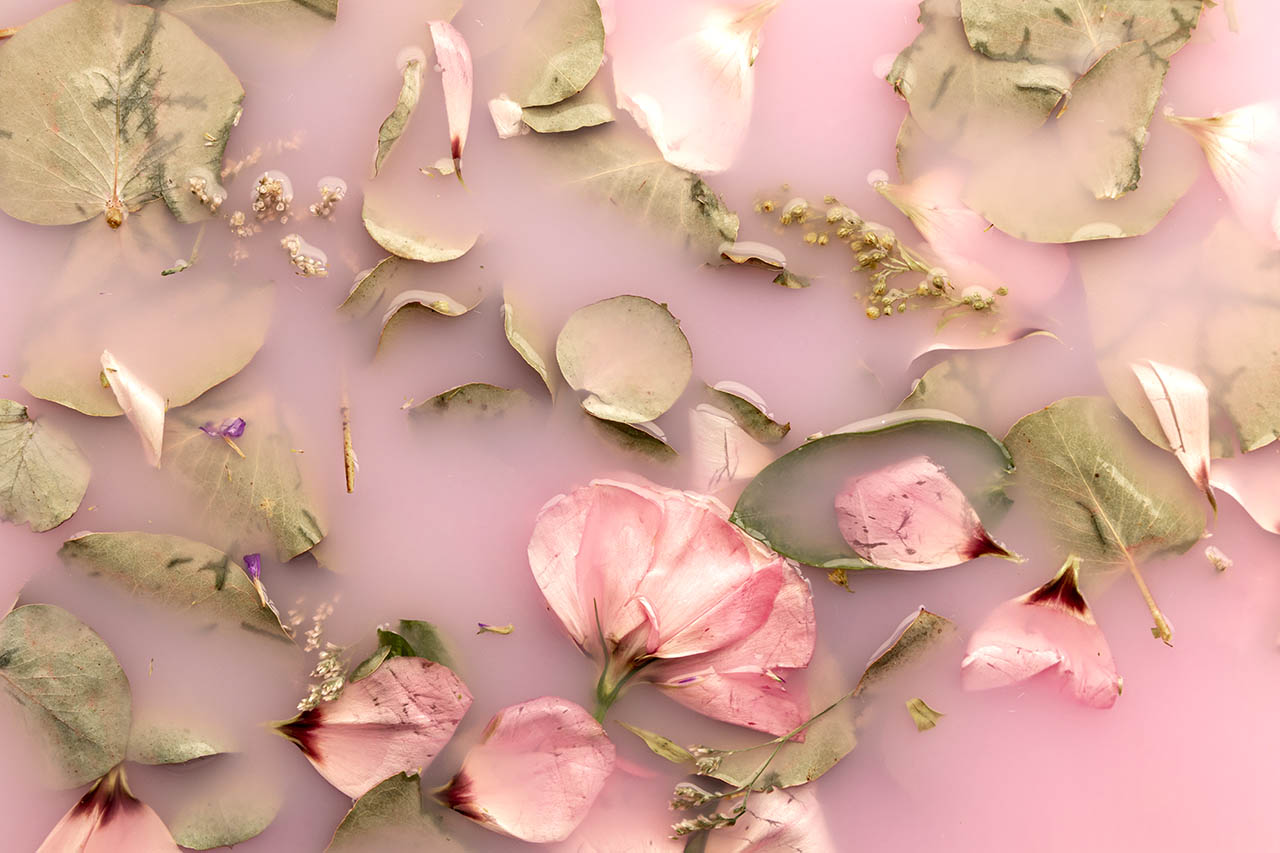 7. Rose water is an excellent after-sun care
After sun exposure, use rose water to fight the harmful effects of the sun on your skin.
Spray rose water on the exposed areas to sooth and revitalise the skin.
8. Rose water blend with clay
In preparation of a homemade clay mask, replace tap water with rose water to enjoy the benefits of rose in the mask.
9. Rose water relieves headaches
Rose water is known for relieving a headache.
In the case of a headache or migraine, soak a compress in rose water and place it on your forehead. You will swiftly feel an improvement.
10. Rose water is an exquisite relaxing product
The smell and sweetness of rose water is an ideal combination for feeling relaxed.
Spray rose water around your bed before bedtime to feel more relaxed.