A Detox Tea Cure is a good idea to fix a lot of body disagreements in a safe way
You will sometimes see some detox tea cure called "28 days" or "14 days", which are presented as cures, with exactly the dose for 1 cup in the morning and 1 cup in the evening. Obviously, you will have no effect with 2 cups of tea a day.
However, the duration of the cure is accurate: 14 days minimum and 1 month ideally, are good for maximum efficiency.
Did you know ? to accustom the body to any change (diet, sleep, habits …),  3 weeks are generally a minimum ! So, concerning weight loss or your detox journey, the first 3 weeks are essential !
Learn more about our detox tea ingredients
Learn more : what is a detox and how can it help to lose weight faster ?
Your body and mood show signs of an overload of toxins, and you decided to support your brave detoxification organs to feel better and lose a few pounds…
Here how to use our Detox Teas as a cure
21 days to feel better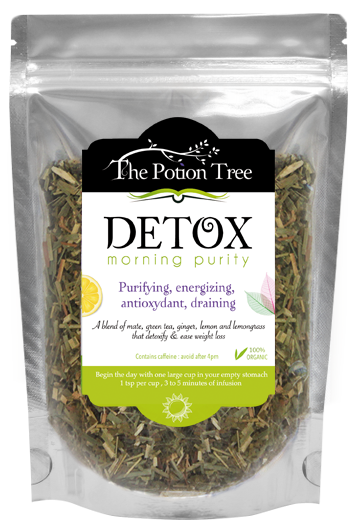 DETOX Morning Purity

One Detox Morning Purity pack contains the quantity for 30 large cups.
This tea is designed to eliminate toxins from the night and kick-start your metabolism, before breakfast. You have to drink at least one cup, in an empty stomach, every morning. The ideal would be to take the time to prepare and enjoy a teapot, as a morning ritual.

 1 tsp per large cup, for 3-5 minutes

2 tsp per teapot, for 5-7 minutes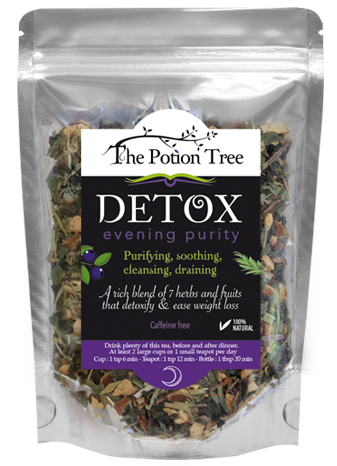 DETOX Evening Purity

One Detox Evening Purity pack contains the quantity for 30 teapots.

It doesn't contain any theine (caffeine). You can drink after 4pm, until bedtime.

The amount of tea produced will depend on the duration of the infusion instead of the amount of herbs. Indeed, this mixture can be brewed for a very long time, without becoming bitter, and can produce large quantities of tea.

With a few quantities of herbs you can prepare teapots and bottles for drinking throughout the day, and that's what we recommend, for fabulous efficiency and glorious hydration (the ultimate secret of beauty, youth and weight loss isn't it?)

You will learn how to make your own quantities according to your needs, but here are some basic tips:

 1 tsp per large cup  for 6-7 minutes
2 tsp per teapot for 10-12 minutes
1 tbsp per 1,5L bottle during 1 night in cold water

You shouldn't add any sugar to your Detox Teas, but you can add a teaspoon of honey, which is completely Detox-friendly.
What should you eat during a Detox Tea cure
Our Detox Tea cure is not a diet, and will not work properly if you put problematic elements in your body !
Your Detox cure should be accompanied by a more natural diet! There are foods that soothe your body and others that pollute it, preventing it from working well, which causes overweight, skin troubles, sleep and health problems.
Think of your poor liver, kidneys and guts ! They need you to reconnect with their wellbeing.
Take advantage of this cure to take care of them through the foods you choose. Add to your menu foods that will boost your detox cure, learn the difference between good and bad fats, and of course, avoid the worst food for your body.
This synergy of efforts for your detoxification organs will bring its share of changes, and you will be glad you listened to your body.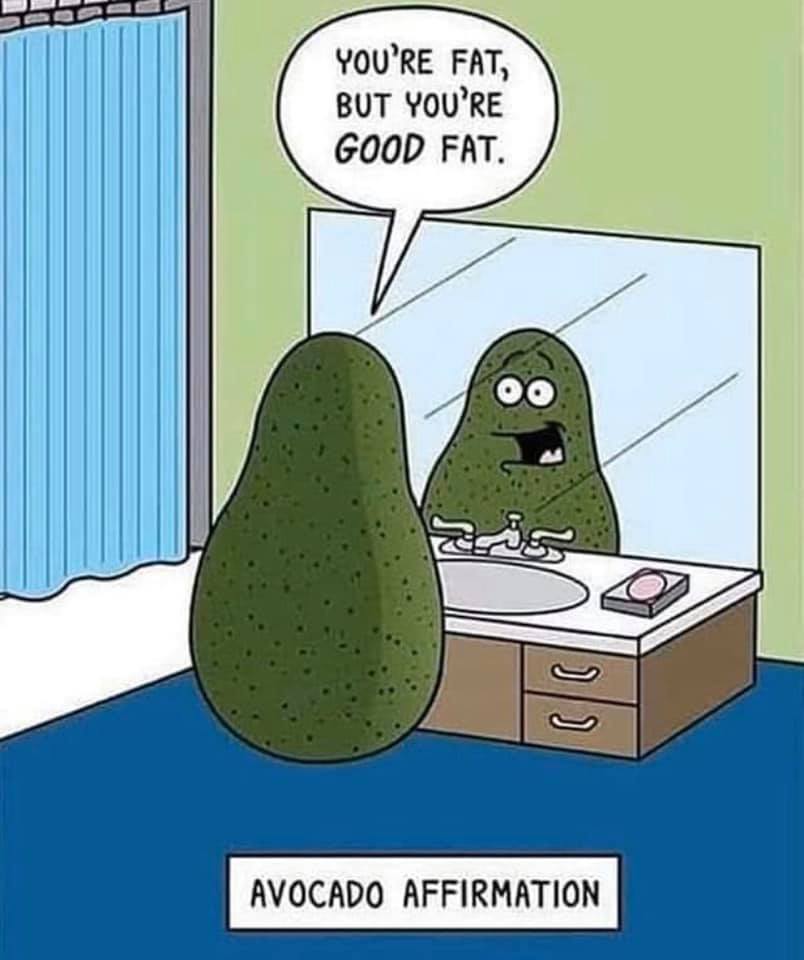 The results are numerous and can be seen on your skin
Some of our customers learn about their bodies and make up their own agenda. Our Detox Teas are not dangerous (it doesn't contain laxative plants) it can be drunk every day.
You will go to the bathroom more often to eliminate toxins, it is a great internal flushing! Your well-being will be quickly increased and you will feel more and more energised: it is at this moment that your motivation will be at the top.
Your body, and your mood in the same way, rid of their waste, will wake up! It's time to take care of them as they deserve.
The elimination of toxins is also done through the pores of the skin, which will be clearer and radiant.
 Did you know that everything you eat or drink is reflected in your complexion?
We have created the Detox Aromatic Bath salts, in order to help with good sweat sessions. During the detox period, these bath salts help to eliminate even more toxins through the skin, while offering it a fabulous nurturing and deep care.
It is also a good time to scrub your body and deeply purify the pores with Brown Sugar Nourishing Scrub, to release them of the dead cells and thus, help the skin to renew itself.

You have additional questions ? Consult our FAQ !
> Please don't use hot tea in a plastic bottle. Learn about the correlation between hot plastic and breast cancer
---
Our Detox teas helped so much people to feel better. Discover their reviews on our Facebook page :

Related products :